Gun Safes
Posted by Alexandra on
If you are a gun owner, one of the best things you can do for yourself and your family is to make sure you have a good gun safe. Gone are the days of shoving a loaded gun under your mattress or hiding ammunition in the top of your closet. In light of recent tragedies it has become more important than ever that we are mindful of our possessions, especially possessions that can impact the lives and well being of others. Today there are plenty of gun safes available for reasonable prices in a variety of makes, models, and variations. A gun safe will ensure that there are no unwanted visitors to your gun stash and that the only people who have access to guns are those who you intend to.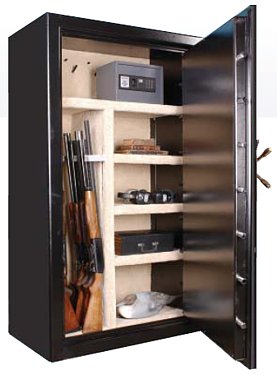 Gun safes are specifically designed to fit a variety of guns—from rifles to handguns to gun accessories to ammunition. When you start your research you'll find that there are basically two types of gun safes– tall and skinny ones for those rifle collectors out there and those square ones with horizontal shelves for handguns and other small firearms. The type of safe you decide to purchase depends highly on your own personal gun collection. Are you a hunter with lots of long guns? Or is your collection aimed for target practice and self-protection? Have you fully exhausted your collection or do you need to leave room for a growing collection?
Why don't you take a little trip over to our website and check out our massive collection of gun safes. Tell us, what helps you when you're making a decision about buying a gun safe? Do you look at price? Or size? Or specs?
The post Gun Safes appeared first on Gun Safes & Wall Safe Brands for Sale.
---
Share this post
---
---
---