Posted by Dominic Schwebs on
Hi, Dye the Safe Guy here, Dye Hawley manager of Safe & Vault Store.com. Here to talk today about the Browning SP23 Sporter Gun Safe. This gun safe is their economy gun safe that they've brought into their line a few years back. It's very popular because it's priced for people who are tight on a budget. The overall dimensions are 60″ high, 30″ wide and 23″ deep. It has a really nice powder coat finish and it also sports a high security Group II Sergeant & Greenleaf dial combination lock. You can also upgrade this lock to a digital electronic
Posted by Alexandra on
When it comes to home and commercial safes there are a lot of different classifications and security ratings to help give you a better idea of exactly what you're getting. However, sometimes it can be a bit overwhelming trying to understand all of the different acronyms and abbreviations. Here we'll take a look at some of the most common security ratings and exactly what they mean.
What is UL?
You might have noticed that a lot of security ratings for safes begin with 'UL.' This stands for 'Underwriter's Laboratories' which is one of the largest safety consulting and certification companies in the United
Posted by Alexandra on
Though perhaps best left to professionals there are a number of effective ways to transport a large safe yourself or with a bit of help from some friends. Of course, this is no trivial matter and takes a bit of preparation and above all else a lot of safety precautions. Here we'll look at some different methods for moving a large safe and some tips to keep in mind to do so safely.
Preparation
Firstly, it's a good idea to empty the safe before moving it. Safely store any valuables elsewhere so that they won't get banged around during the move or add
Posted by Alexandra on
When it comes to security there's nothing better than concealment to bolster the protection of your valuables. For this reason wall and floor safes have become very popular and are a great option for upping the security of your home or business. Here we'll look at a wall safe produced by First Alert with a few unique features and a great reputation for quality and security.
Overview
One thing that sets apart this wall safe from others among the same class is the 2070AF's ability to expand creating additional room for storage and more flexibility in where it can be installed. The depth
Posted by Alexandra on
While safes are generally pretty standalone there are always a few ways to make the experience better and ensure that you have all of your needs taken care of. Safe accessories range from humidity control to organizational tools and lights and while not always necessary they can still be an important facet to home or business storage. Here we'll look at some of the more important accessories and you can decide for yourself what is necessary and what is not.
Humidity Control
Some of the more oftenly considered necessary safe accessories are those related to humidity control. This includes desiccant packs as well
Posted by Alexandra on
Combination locks are about as old as safes themselves and have been a staple of security for centuries. The first known combination lock was found in a Roman tomb though more reliable historical examples are attributed to a manual published by Muslim engineer Al-Jazari in 1206. Since then there have been multitudes of different innovations and additional security features added to make them more reliable. Here we'll look at how modern combination locks have upped the security and what to look for when you want some additional security for your own combination lock.
Basic Types
There are two basic types of combination locks
Posted by Alexandra on
The Safe & Vault Store's own brand Second Amendment gun safe is a solid take on a timeless design and does exactly what it advertises. The basic concept is a classic gun cabinet with tiered shelving and a large capacity for long guns. Additionally this safe comes with more than sufficient burglar and fire protection. The biggest perk, however, is the price. Here we'll look at some of the basic specifications so you can see just what you'd be getting with the Safe & Vault Store Second Amendment Gun Safe.
Dimensions
Outside: 59.00" H x 28.00" W x 20.00" D
Inside: 55.00" H x
Posted by Alexandra on
When it comes to safe security and the well being of your valuables in the event of a fire there are a lot of different factors to consider. One interesting characteristic of fire worth noting is its classification. Depending mostly on the combustible material (anything from metals to gas or cooking oils) there are a number of different classifications for fire with different average burn temperatures. This is one factor to consider when looking at fire resistant safe specifications and may also have an impact on where you store your safe. Here we'll look at some of the basic characteristics for
Posted by Alexandra on
Understanding what your safe is made from is an important aspect of ownership. Most safes nowadays are made from a variety of steel alloys, but what exactly does that mean? When there's just a small wall of steel between your valuables and an eager burglar it's important to have some confidence in your safe's security and the material it is made from. Here we'll look at how steel alloys are made and what sets them apart from pure metals.
Interesting to note is that steel by itself is already an alloy. A metal alloy simply means that it is made from 2
Posted by Dominic Schwebs on
A Guide to Finding the Perfect Safe
When shopping for a safe it is often difficult to decide which has the best value for your money, and provides the best protection for your valuables. There are a lot of options out there, and while a High Security Burglar Fire Safe will undoubtedly protect anything you put in it, perhaps it is a little overboard if you are simply protecting documents. Fortunately, Safe & Vault Store has you covered. With Safe & Vault Store's The Safety Dance Infographic below, find the ideal safe for your valuables. Just answer the simple questions and be
Posted by Alexandra on
One interesting safe that deserves a little spotlight is the Gardall LC1414-G-C. This is a 'cute' little utility safe that might just fit the niche you need. The idea of a utility safe is quickly becoming a popular design with a lot of diverse applications. While this safe may not be the biggest or strongest out there it's got a solid build and a lot of utility. Here we'll look at some of the basic specifications as well as some of the different ways one can use a small utility safe.
Dimensions
Outside: 14.00" H x 14.00" W x 14.00" D
Inside: 13.50" H
Posted by Alexandra on
One often overlooked bonus of owning a home safe is the insurance perks that can come with it. It's common for many home insurance policies to cover small amounts of cash stashed at home but this number increases greatly when you keep your assets in an insured safe. One important factor when considering a safe is its cash rating. In short this is the amount of cash that can be safely stored in a safe but perhaps more importantly it's also the maximum amount that insurance companies are typically willing to cover. Interestingly, the cash rating can be used as a
Posted by Alexandra on
Let's be honest here. Everybody wants a vault. Owning a custom home vault is the dream of pretty much everybody interested in home security and safes and for good reason. When it comes to space and security there's nothing that can beat a well built vault. Same as with safes, however, a lot of the security for a vault comes from the door. So, what makes a good vault door? Here we'll look at some of the basic details that set apart the great vault doors from the mediocre.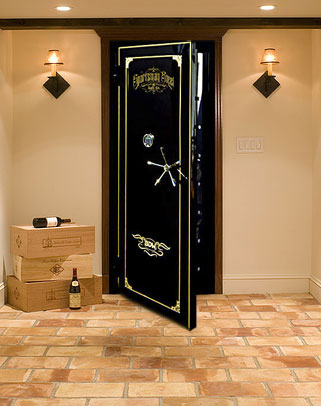 Thickness and Security
While this is one important factor for choosing the right vault
Posted by Alexandra on
The first alert 2484DF is an excellent quality mid-range multi-purpose gun safe. This safe comes with a plethora of quality security features as well as a one hour fire rating. Equipped with a programmable digital lock and pry resistant internal hinges, the First Alert 2484DF is an excellent option for the modest price range under $600. Here we'll look at some of the technical specifications as well as the pros and cons of the First Alert 2484DF Executive Gun Safe.
External dimensions: 27.00" H x 18.50" W x 19.50" D
Internal dimensions: 25.50" H x 17.00" W x 14.00" D
Internal storage capacity: 3.50
Posted by Alexandra on
Have you ever really wondered exactly how your safe or vault earned its fire rating? There are a lot of interesting details to be found in how these tests are designed and conducted that should hopefully bring you some peace of mind. Without the background information a fire rating is little more than a guarantee which is only as good as the entity that makes it. Fortunately the pricey words guaranteeing your safe's durability in the event of a fire are coming from a very accountable source. The Underwriter's Laboratory has been testing the fire resistance of various materials and safes
Posted by Alexandra on
While there's certainly some merit to a shiny new safe there are also a number of good reasons to purchase your next safe previously owned and at a discount price. The truth is that safes haven't changed too much throughout the years. The basics have remained the same: thick walls and high quality steel are the same benchmarks of quality now just as they were 50 years ago. The main difference between a new safe and an old safe is going to be the locking mechanism. Modern locking mechanisms are generally more sophisticated and technologically advanced in some cases but this
Posted by Alexandra on
Safe, vault, and home security people have a tendency to want to best. This is very natural and even fun as these dreams of perfection often lead to incredible home safe creations that are always pushing the limits through technological advancements and innovations. After a lot of time researching home safes and vaults I thought it would be interesting to put together my ultimate safe in theory. The trick here lies in the details so from the very type of steel used to construct the walls to the intricacies of the security system. This is my ultimate safe. How would you
Posted by Alexandra on
While safes have come a long way since their inception so too have the tools that are used to break and pry them open. While once upon a time a crowbar may have been enough to crack any fancy safe in the land this isn't the case anymore. Safes are quickly getting thicker, stronger, and more secure but so too are the tools that are being used to crack them. From plasma torches to thermite there are a lot of unique and powerful ways to break into safes nowadays. Are safes really secure anymore? Here we'll look at some of the more interesting
Posted by Alexandra on
It's difficult to pinpoint exactly where the history of safes begin. Safes only began to take a similar form to what we're used to in the early 19th or late 18th centuries. Before then people used wooden boxes bound in iron to secure their belongings (think treasure chests) which can date back over a thousand years. It wasn't until the Industrial Revolution that safe manufacturers really had the knowhow and materials to begin producing metal boxes resembling what we use nowadays with similar complex locking mechanisms. So, here we'll look a little bit at the history of safes and just how
Posted by Alexandra on
While, of course, owning a safe will innately protect your valuables; a lot of people often forget that the best defense is usually a multi-tiered security plan. One way to protect your things is to hide them. Even better, though, would be to hide your safe. While pretty much all safes are crackable with enough time, effort, and tools, this is not the case if the burglar cannot even find your safe. This isn't really a new idea. Wall and floor safes have been around for sometime but there are also a lot of other unique ways to hide your safe.
---