Important Factors to Consider when Choosing a Vehicle Gun Safe
Hunters, campers, hikers, off-road enthusiasts, and cyclists who need to secure their guns, wallets, and cell phones in their vehicles seek a safe and secure solution to keep their valuables out of the wrong hands. Equally as important, they seek a reliable product to protect their items from damage and allow easy access in an emergency situation.
We consider these five gun safes an excellent choice for vehicle gun storage based on the following criteria; storage space, quick access, consistent reliability, adequate protection, and mountable & discreetness. 
---
Top 5 Gun Safes for Cars, SUVs, Jeeps, and Trucks
Before purchasing a vehicle gun safe we suggest that you check your local gun storage laws & regulations.
---
1. Monster Vault Low Profile Under Bed Gun Safe
Storage Space: With the inside dimensions of 4.00" H x 44.50" W x 22.50" D and 2.3 cubic feet of interior storage space, the Monster Vault Low Profile Under Bed Gun Safe has plenty of room to store your gun collection as well as valuables, money, electronics (iPads and laptops) and even musical instruments (guitars).  
Quick Access: Place your low profile gun safe where its most convenient to you and then its as easy as reaching for your safe, putting in your programmable (3-8) digit combination and gaining quick access to your rifles and handguns when you need them the most.
Consistent Reliability: Secure locking mechanism - two 1/2" steel rods. 
Adequate Protection: (2) - 16 gauge layers of steel in the body (1/8" of steel). (1) 12 gauge layer + (1) 16 gauge layer of steel in the door bonded together.
Exceeds the CDOJ construction standard for California Gun Safes. 
Mountable & Discreetness:  Pre-drilled access holes and fits most full-sized SUV's, trucks, RV's and travel trailers without sacrificing vehicle utility. This can also be installed in government and law enforcement vehicles as well.
---
2. SecureIt Tactical FB-47-01 Fast Box 47 Hidden Gun Safe
Storage Space:Store two firearms up to 45" tall.
Expand Capacity with the Vertical Kit (sold separately). With the FAST BOX Vertical Kit you can store up to 2 firearms vertically using the SecureIt CradleGrid system
Quick Access: Silent push button lock and key over-ride. Reliable, quick, quiet and easy access when you need your firearm.  
Consistent Reliability: With 47" of width this safe is designed to store ammo, handguns and other small gear right next to your firearm. The safe easily accommodates your firearm with optic still attached so you never have to re-zero.
Adequate Protection:Ultralight, heavy-duty 14 gauge steel. Weighing 45 lbs makes it adaptable to your needs, without compromising the security and safety, you require to store your guns. Designed with the same professional-grade craftsmanship used in the U.S. military.
This gun safe is perfect for police departments, law enforcement and military situations.
Mountable & Discreetness: There are pre-drilled holes for bolting this safe to a solid surface for additional security.Designed to be easily hidden.
---
3. Vaultek NSL20i WiFi Biometric Full-Size Rugged Slider Pistol Safe
Storage Space: Designed to fit larger size pistols including full-size 1911's or handguns up to 8.875" in overall length. 
Quick Access: There are 4 quick access points to get into the safe. You can use the oversized biometric scanner, backlit keypad, manual key or a smart key which is sold separately. 
Consistent Reliability: Powerful WiFi connectivity to view live safe data and receive instant alerts for safe events right on your phone. You can also manage and monitor your safe remotely with the Vaultek Wi-Fi app or exclusive web dashboard. 
Uses a rechargeable lithium-ion backup battery which provides standby power for up to 4 months if used without plugging in. It charges pretty quickly in 2.5 hours with the included micro-USB charging kit.
Adequate Protection:The steel on the Vaultek NSL20i is made of 16-gauge carbon steel construction with a durable finish. This will prevent corrosion and ensures long lasting protection of your firearm for years to come.  
Interior features a high-density foam holster to protect a full size firearm plus spare magazine.
Mountable & Discreetness: The included mounting plate allows multiple mounting options. The safe can be removed in seconds when the safe is opened first.
---
4. Hornady 98210 RAPID Vehicle Safe with RFID Lock
Storage Space: Fits most duty-size or smaller handguns. 
Quick Access:The RFID Lock has patented RFID technology. This technology unlocks the safe faster than a keypad or biometrics. Four RFID tags are included. A digital keypad with a four to six-digit security code is standard. A backup mechanical circular barrel key allows additional entry methods.
Consistent Reliability: It is powered with a 12V car adapter and battery power. This ensures your contents are protected 24/7. 
Adequate Protection: Made with 14 gauge steel with internal hardened locking lugs to provide protection to your valuables. It exceeds ASTM International safety standards for child and pry resistance, lock strength, drop/pick/saw tests, and high-attack resistance.
Mountable & Discreetness: Pre-drilled holes are made available for permanent mounting inside your vehicle.
Neoprene cover mounting system that can nearly fit any vehicle and protects interior finishes. This system includes a large mounting plate that can be wedged between the seat and center console or between two seats in the vehicle. The inflatable air bladder allows the mounting plate to adjust to nearly any seat gap and provide a firm mounting location without modifying the vehicle. In addition, a 1,500 lbs. security cable is included for attaching to the seat frame for additional security.
---
5. Tactical Walls VMod Jeep Package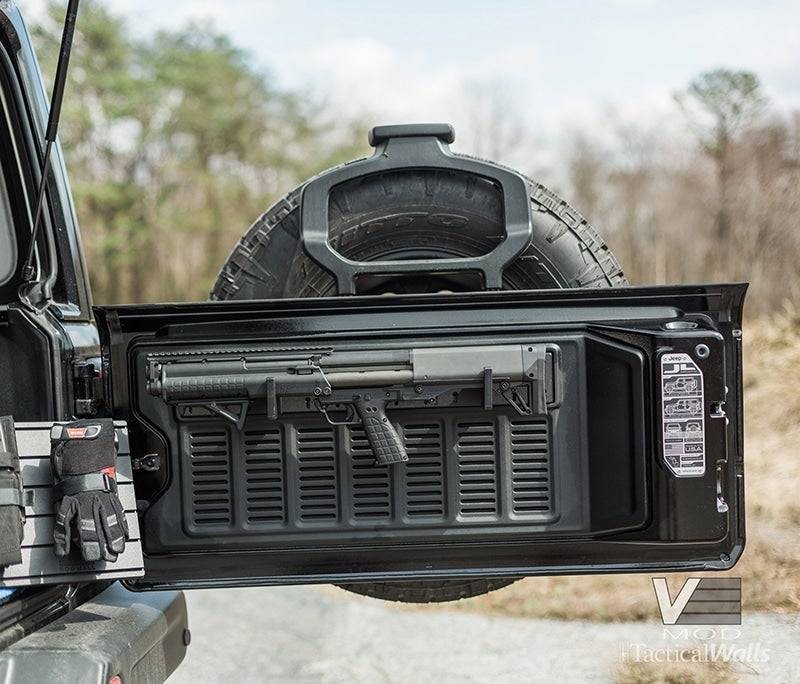 Storage Space:Allows you to upgrade your tailgate to hold items such as firearms, necessary tools for your job, or other items you want to keep organized. 
Quick Access:It's as easy as opening up your tailgate and grabbing what you need!
Consistent Reliability:Quick and easy to DIY install.
Accessories for this package allow multiple items to be strapped in securely or mounted on hangers.
Adequate Protection: Made in the USA with sturdy, non-abrasive plastic. 
Mountable & Discreetness: This package will fit most Jeep TJ, JL, JK, and/or Rubicon models. We recommend that you verify measurements to make sure the VMod Jeep Package will fit before purchasing. Weighs 10 lbs. As long as you can use a screw gun you can install this yourself.
---
Please don't hesitate to reach out to our safe professionals if you have questions, that's what we are here for! Call us at 800-207-2259, use our chat option, or email us at info@safeandvaultstore.com.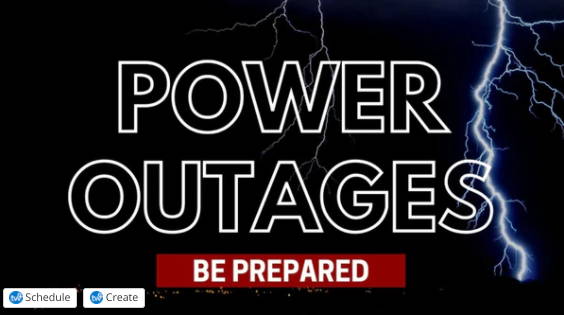 How to Prepare for a Long-term Power Outage
It's nothing short of a miracle that we've progressed as far as we have since the industrial era. We've built machines. We've conquered space. We've made life easier (so it seems). But the fact remains⸺ nothing lasts forever, even good times.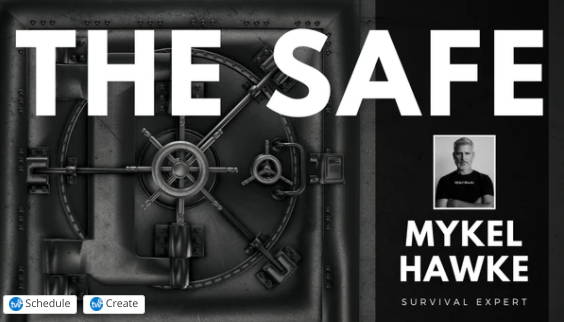 The Safe by Mykel Hawke (Survival Expert)
Valuables can be something as simple as old family photos or important administrative documents. No matter what they are, or how they're defined, we all have something we care for and want to protect.
---