Custom Safe Door Organizer
Exclusively on the Ironman Gun Safes Gun Safes by Hayman Safe
Are you worried that your Ironman Gun Safe storage is at maximum capacity? Would you like to use your safe-door storage space more efficiently?
Utilizing the custom door organizer in your Ironman Safe will free up shelf space while keeping your valuables easily accessible and protected.
What Makes the Iron Man Gun Safe Door Organizer a Great Value?  
Most gun-safe brands come equipped with storage space on the interior of the door. However, you are limited to the storage options and layout that comes from the manufacturer. The Safe Door Organizer that comes exclusively with the Ironman Gun Safes by Hayman allows you to customize your storage layout to choose what to store, and where it's placed.
The best part is you can add more storage accessories and move items as needed.  
Custom Door Organization Options: Demonstration
Dominic Schwebs, Digital Marketing Manager for SafeandVaultStore.com talks about the exclusive, custom door organizer available on the Ironman Gun Safes only on SafeandVaultStore.com.
---
Watch the video or check out the breakdown below:
---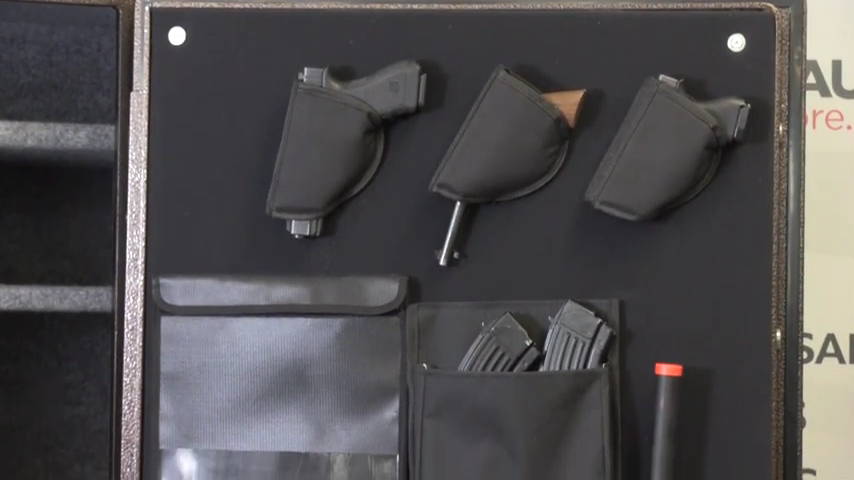 So right now we have 3 pistol holsters on the door. But if you had 10 pistols, you could put 10 pistol holsters on the door as long as they fit.
---
But if you had 10 pistols, you could put 10 pistol holsters on the door as long as they fit. And they just come right off. Because it's Velcro, it just comes right off the door. You can take it with you and then you can just put it right back on the door when you're done.
---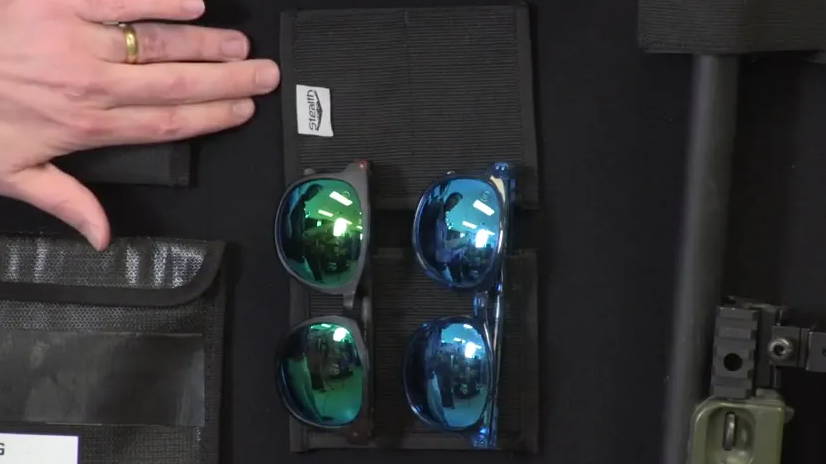 These smaller magazine holders can be used for magazines or even something like expensive sunglasses. We also have these larger pouches which can be used for larger magazines, binoculars, or anything else that will fit inside there.
---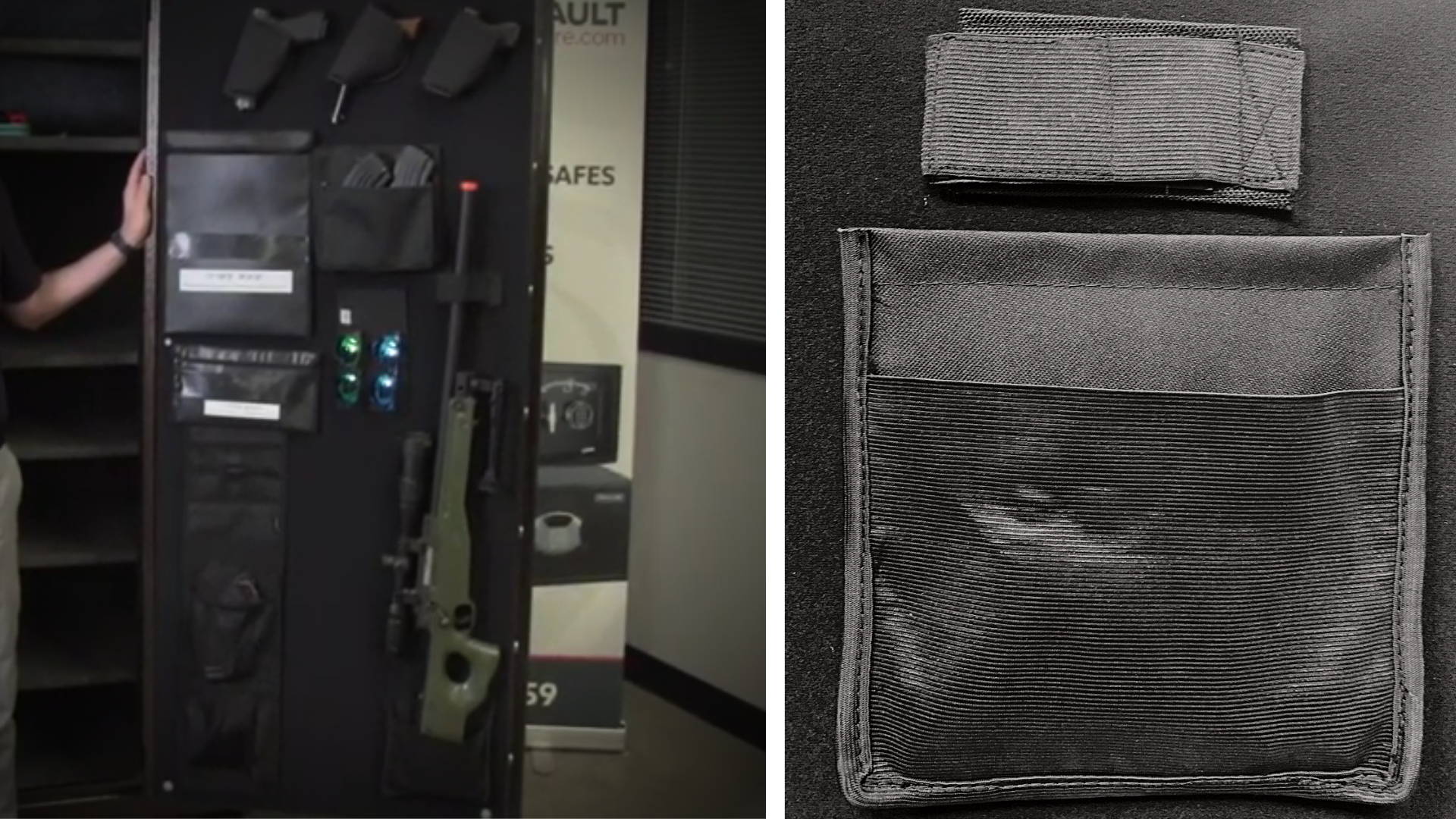 We also give you the ability to hold a rifle on the door. If you want multiple rifles, you can add more rifle holders.
---
For your important paperwork such as wills, deeds, car titles, marriage certificates, and passports, you can store them in this fire and water-resistant bag.
It comes right off of the door if you need to take it with you in the event of an emergency.
---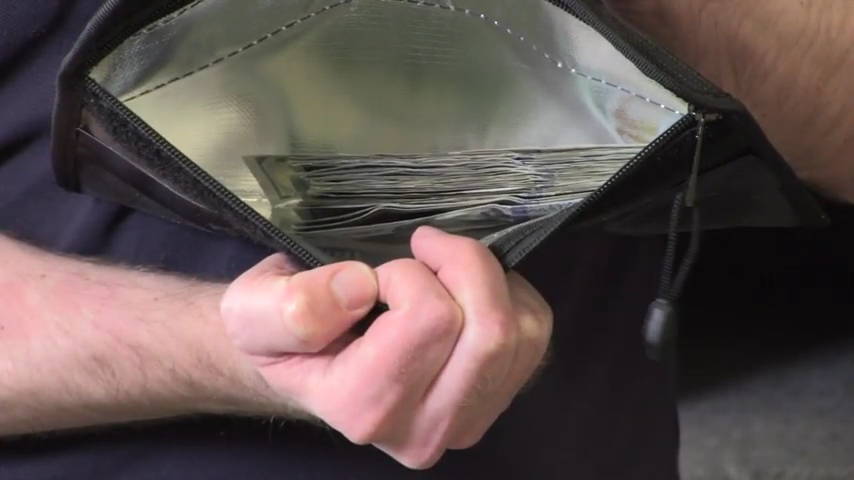 We also have this smaller fire and a water-resistant bag filled with cash. It can also be removed to take with you if you want.
---
This custom door organizer by Safe & Vault Store really gives you the customization that you want to store your items in your gun safe with the perfect organization. With all the items on the door ready to go, this leaves more room inside your gun safe for other items that you don't use as often but still want to keep protected.
Check out our custom door organizer and all the options available on the Ironman Gun Safes.
Please give us a call at 800-207-2259 if you have any questions.
---
---
---